Published at: 15/03/2023
® Carlos Alguacil for Rittagraf
What is Direct Drawing Screen Printing?
Going back in history, Direct Drawing screen printing system is the term popularized by the Vostok Printing Shop team (Barcelona, around 2012) after conducting various tutorials, numerous masterclasses, and workshops in universities and fine art schools. This term is used to designate the process and use of a series of fluids that replace photosensitive screen printing emulsions. Our technician Carlos, who was a co-founder and technician of Vostok, wrote one of the first tutorials and was the first to talk about these products and other graphic printing processes in Spanish. That first tutorial was titled Serigrafiar sin emulsión fotosensible (Screen Printing without Photosensitive Emulsion). Years later, in 2018, it was adapted and published in the book Triunfar Estampado (Succeeding in Printmaking) edited by Gustavo Gili (now editorial GG). In that publication on manual graphic printing techniques, you can find an adaptation with the name Dibujo directo: fluidos que sustituyen las emulsiones fotosenseibles (Direct Drawing: Fluids that Replace Photosensitive Emulsions), which in the French edition Faites Forte Impression! edited by Pyramyd, was very eloquently translated as le dessin direct: bye bye les émulsions photosensibles. This term has been expanding and becoming more popular in screen printing and graphic art workshops, especially in Spain.
The name Direct Drawing does not refer to a specific brand material, but to an indirect screen printing process that involves various screen blocking materials. These fluids mark unconventional work patterns, are applied directly to the screen mesh, and are used to create screen printing frames without the need for machinery or photomechanical processes. All the work prior to the print is done directly on the screen, without the need for photolithography or indirect films. Hence the name Direct Drawing System.
The Direct Drawing Screen Printing technique is based on the use of three key products:
The fluid for drawing directly on the screen mesh
The blocker that masks and waterproofs what has not been drawn
The remover or eliminator of the blocker

Materials for Direct Drawing: A Step towards Ecology in Screen Printing Production
Direct drawing screen printing system is based on the use of a manual (non-photosensitive) blocker to create a screen frame for screen printing. Did you know that this type of screen fillers has existed for a long time? Since the appearance of screen printing as a graphic technique, various manufacturers of photo emulsions have also developed screen printing fillers to touch up and cover pin holes or imperfections in the revealed mesh. These screen printing fillers had also been used by visual artists to generate their own matrices without the need for screen printing laboratories. Interesting plastic techniques that made use of these blockers had even been developed. The problem with these screen fillers is that they were solvent-based when working with water-based inks and water-based when working with solvent-based inks. Nowadays, they are still found on the market. To name a few examples:
All of these blockers are suitable for solvent-based inks. It is true that the German manufacturer Kiwo has the Kiwofiller SWR that they indicate is suitable for water-based and solvent-based inks. But it is not as dual as one might expect. It could work for covering and blocking small parts, but not for what we are really interested in, which is creating a whole matrix with a blocker that allows us to make an edition with water-based inks.
Thus, for years, suitable blocking systems for water-based inks were scarce and not very recommendable for the user. But now, some fine art product brands have developed water-based blocking systems that are ideal for working at home or in small workshops, without compromising user safety or the environment.
Among the most popular brands are Speedball, Jacquard, and Daler and Rowney, and this is how these three manufacturers name their products:
Speedball
Jacquard
Daler and Rowney
After years of testing and evaluation, we still trust that Speedball's blocker is one of the most reliable on the market. Although it is important to mention that, as with any blocker remover, none is as effective as one would wish, even Speedball's Speed Clean. That's why, after several years of using different blockers, we developed a much more effective chemical: Sosil. It works as a powder emulsion recoverer, but only for direct drawing blockers. To date, this product manages to remove the blockers we have tested and is very effective with the three brands mentioned above.
FAQs about the use of Direct Drawing products in screen printing
For years, we have offered workshops on the use and application of these materials to create screen printing frames and work without emulsion. We have tested, and continue to test, all similar products made by various manufacturers. Here we offer a series of answers to the most common questions we are asked, mainly about the use of Speedball products that you will find in our online store, as well as in the physical store. Nevertheless, most of these tips are applicable to other manufacturers of this type of products.
Can Speedball's Drawing Fluid be diluted?
Yes, it can be diluted. The important thing is to know the maximum dilution point. For several years, we have conducted viscosity tests and determined that the maximum degree to which the product can be diluted without losing effectiveness is 50%. If we dilute it more, it will no longer perform its function. Of course, being a water-based fluid, the concentration of solids can vary due to evaporation. So if we want to dilute the product to suit our drawing method, we recommend always conducting tests.
What materials can I use to apply the drawing fluid?
You can use any drawing tool you have in mind, such as conventional drawing tools like brushes, dip pens, technical pens, sponges, etc. Even tools like re-fillable markers can be used, but the drawing fluid may need to be diluted. You can apply the drawing material directly or use it with stencils, templates, or even rubber stamps.
Just one piece of advice: If you use sharp objects such as nibs or needles, you should be very careful. Screen meshes are flexible and resistant to friction but are not designed to be in contact with sharp objects. You could scratch or even tear the fabric.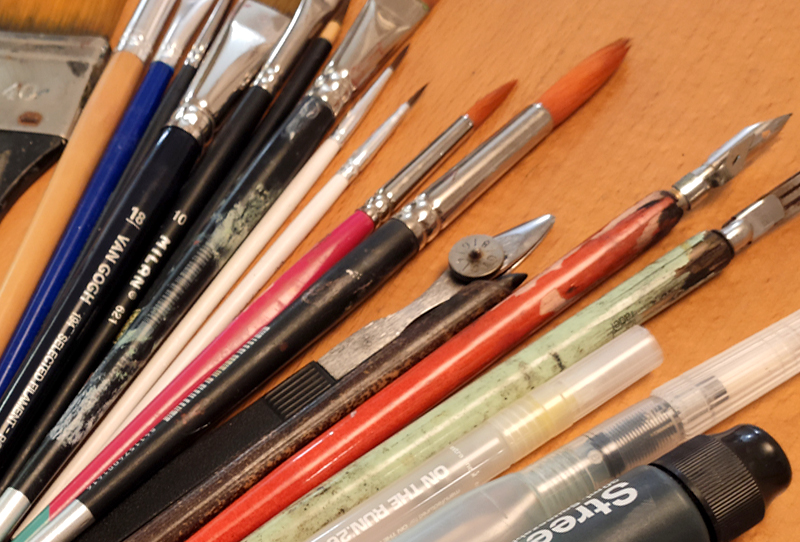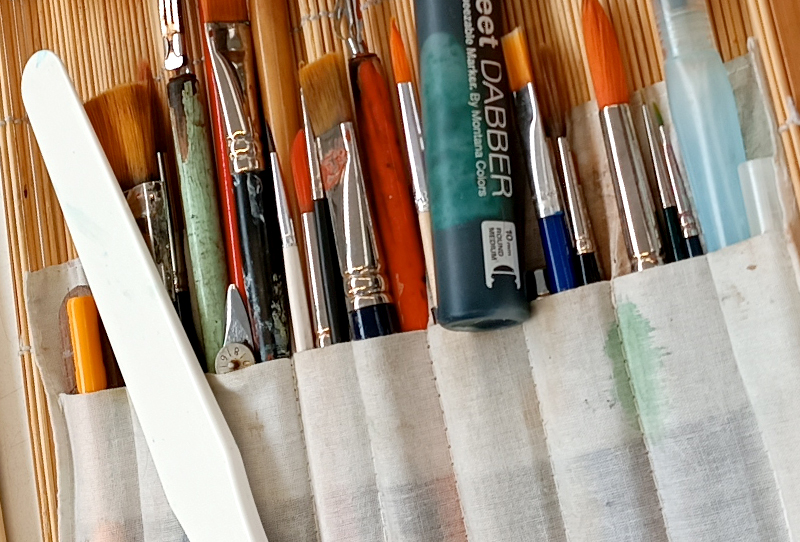 Can I correct a drawing made on the screen mesh?
Yes, you can. The Drawing Fluid can be cleaned with water, so you can partially or completely remove the drawing. But remember that moisture spreads throughout the mesh of the screen and erasing or correcting one part without damaging the rest can be challenging.
Can I draw with Drawing Fluid and block it another day?
Yes, you can. There is no problem. You can create the image with Drawing Fluid and apply the Screen Filler and blockout at another time. You can even create the drawing in several sessions. However, it is highly recommended that the screen frame be stored in a place where it cannot collect dust and, of course, avoid moisture as it could ruin all the work.
Can Screen Filler be thinned?
This product tends to settle and concentrate at the bottom of the container. As we have mentioned before, it is important to test the consistency before using it. If the filler has become too thick due to product evaporation, it can be moderately thinned with distilled water until it reaches its original density. However, diluting the product is not recommended as it will lose its blocking effectiveness. And how do I know if the consistency is appropriate? The original density of screen fillers is always lower than that of a screen printing emulsion. It should not be too thick, but neither should it be too thin.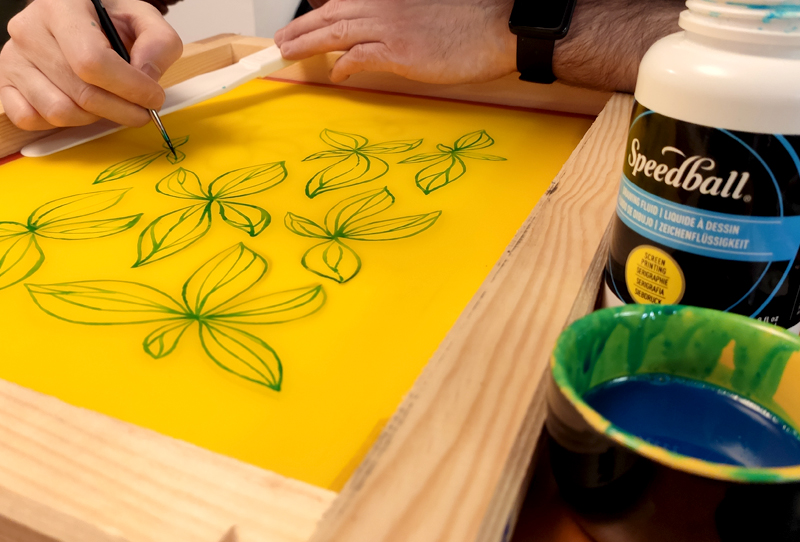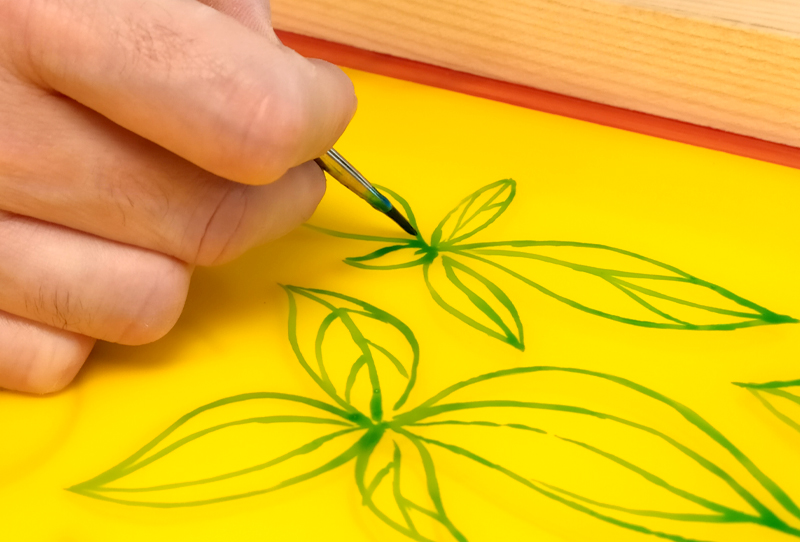 El Screen Filler tiene grumos. ¿Está caducado? ¿Puedo usarlo?
Siempre hay que remover bien el producto antes de usarlo. Este producto no tiene una fecha de caducidad específica marcada por el fabricante. Aún así, sabemos que el producto con el tiempo genera grumos que hay que eliminar para un uso correcto. Si el producto tiene grumos, es necesario promover y pasarlo hasta conseguir una densidad uniforme.
Can I apply multiple layers of Screen Filler?
No, it is not recommended to apply multiple layers of Screen Filler. Why? Drawing Fluids are water-based products with high hydrophilic capacity, which means they are designed to be easily dissolved in water. Since Screen Filler is also water-based, applying more than one layer of it would remove the image created with Drawing Fluid. It is important to ensure that Screen Filler is applied only once.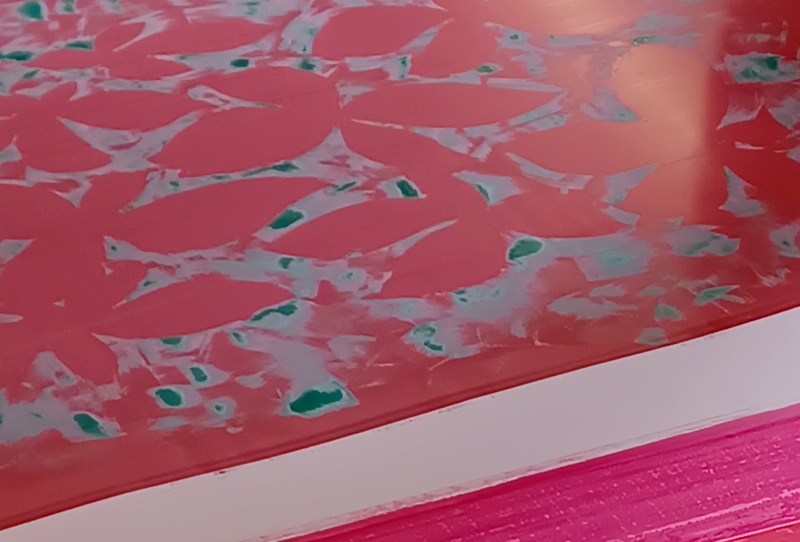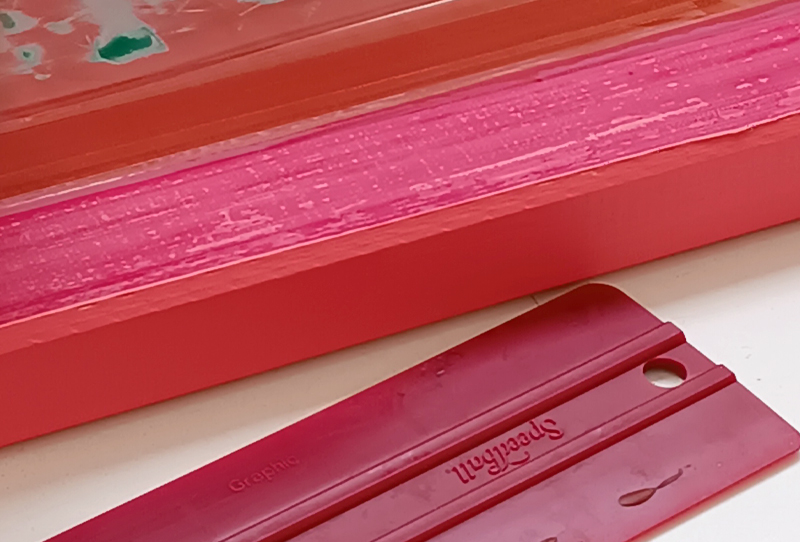 I applied the screen filler but there are errors in the result, can I fix it?
If it's a matter of covering or masking areas, you can touch up the screen once the screen filler is dry. But if an area was blocked that shouldn't have been blocked, there's no solution. The screen filler cannot be removed in parts within the mesh like the drawing fluid can. You'll have to remove all the screen filler and start over.
Can I have problems recovering a screen that has been created with screen filler some time ago?
Just like screens created with photosensitive emulsion, screens created with screen filler can be difficult to remove and clean if they have been created some time ago. It is much easier to clean the screen mesh immediately after finishing the job. However, using Sosil can make the recovery much more effective, and time can be less of an issue. But yes, time could increase difficulties in the recovery process. Chemical products can be altered by time and heat, making recovery more difficult.
Can I use the blockout to fill in pores or touch up screens made with conventional screen emulsion?
Yes. After all, it is a screen printing blockout, and the advantage is that you can fill in pores of a screen and you don't need to re-expose, just let it dry. The disadvantage is that conventional screen emulsion removers, such as Seri Zero Dry or Kiwo CF-70, will not remove the blockout residue you applied. You will need to use a specific remover for that, we recommend Sosil again.
Can I use a sponge to reveal the design?
If the layer of drawing fluid is correct and has been blocked with a thin layer, it will be enough to apply cold water. As soon as it comes into contact with water, the layer of blockout above the design will come off easily. However, we can use a synthetic sponge to help remove the blockout in those areas where the layer of drawing fluid was very thin and the blockout is not coming off completely.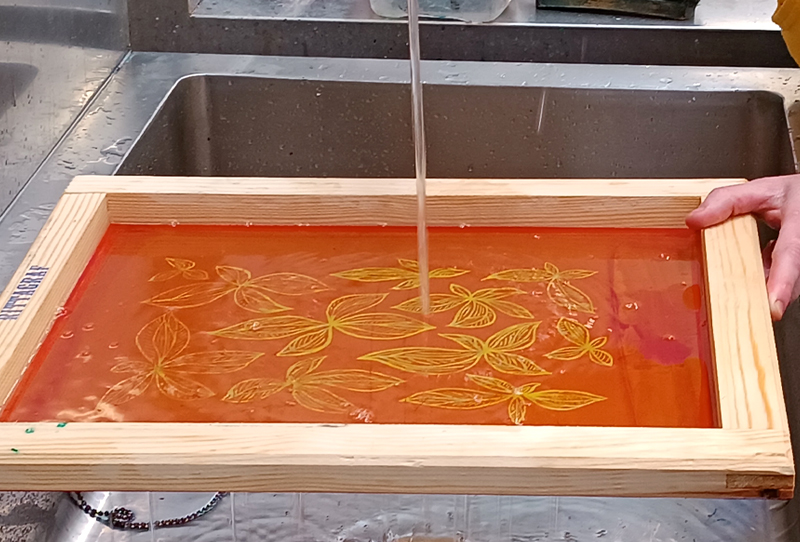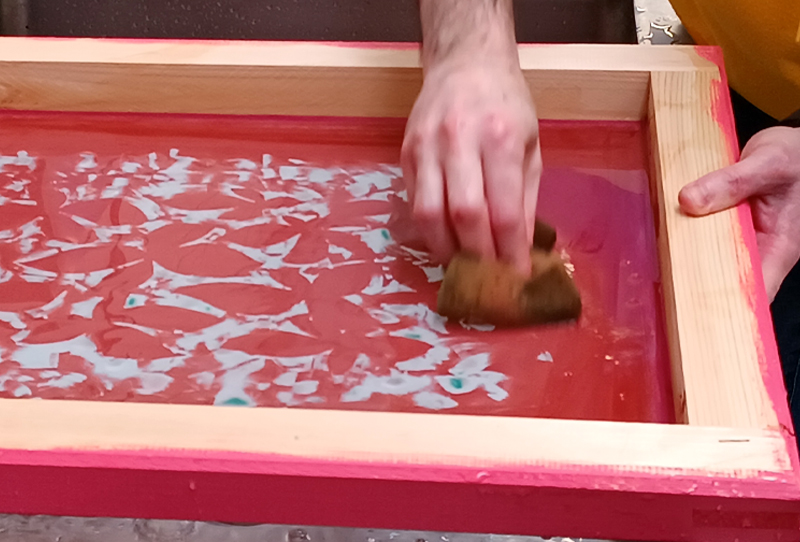 Direct Drawing Screen Printing Step by Step
If you want to learn more about direct drawing and see step by step how to make screens without using photosensitive emulsions, we recommend that you visit our Direct Drawing Screen Printing Tutorial.